So, a few weeks ago I was sent a couple samples of the Butta Skate wax. Basically this company is really awesome and eco-friendly even running their office on 90% solar power. They have been making surf wax for years and have come out with this new tin of wax for skateboarding. When I opened the fresh tin I could smell coffee-bean goodness wafting up. As a definite coffee enthusiast (*cough, addict) I was already sold on the idea. It had ace packaging and shipped super fast! I was stoked on the opportunity and their generosity but I knew I couldn't skate rails, myself, so I invited a girl I knew could grind (Carla Von Marx) to a Saturday sesh to test the stuff out… and get some shots of her sick skills in the process. After she had a go at trying out the wax for a while; I had a sit-down with her to chat about how the wax went and also ask her a little about herself. She is an amazing skater and all-around cool chica so you can be sure to take her word for this review! Read on to the end to see how you can grab some for yourself if you feel moved to do so after this run down.
Interviewer: April Whitlow
Skater: Carla Von Marx
April: What's your first reaction?
Carla: To the wax? It's really nice! I like it. I couldn't believe it; I've been using candles all my life and now using this, it's really useful.
April: What do you think of the packaging, how it looks?
Carla: It's really cool actually. I like the box.
April: You can use it for other stuff maybe
Both Laugh
Carla: Yeah it looks like that kind of box!
April: The price online is £5.95. Would you pay that kind of price for the wax?
Carla: It's really nice. You could spend £10 on a skate brand F*$king wax so yeah it's good.
April: If you were to buy a wax, what would you look for?
Carla: To be honest I don't know if I'm the kind of person…sometimes it goes 'I like the packaging, I like the picture, I like it!' I just like the look of it.
April: How did the wax feel on the rail and on your board?
Carla: Perfect! Smooth! It's really nice!
April: What's the general attitude towards using wax? Do most skaters love it/hate it?
Carla: Obviously if you're a skater, you will need wax. You will always need to take wax with you if you skate ledge or rail. But…sometimes when you wax it too much it's really annoying for [other] skateboarders. Yesterday we had a problem here (clapham common skatepark). A rollerblader was waxing everything. It was annoying, man.   You can kill yourself like that, you know!
April: Just overwaxing shit.
Carla: Yeah man.
April: So, have you used any other brands before? Or if just candles, how does it compare?
Carla: Well candles are just so tiny, this [Butta wax] is so much bigger.
April: So it's nice and hand-held?
Carla: Yeah!
April: So have you heard of this brand, Butta Wax?
Carla: No, never.
April: Always good to try something new then! How about a little about you? Where are you from and what's your history with skateboarding?
Carla: Well I'm from Spain. Well, I actually used to do longboarding before, but my ex-boyfriend pushed me to do skateboarding. So yeah, that's how I started. I've been skating for 3 years now and I don't regret it. I love it.
April: Do you have any sponsors at the moment? Any names you'd like to drop or people you'd like to thank?
Carla: Yes, I'm sponsored by Slick Willies.
April: Ah cool! The skateshop!
Carla: By Slick Willies and also I used to be sponsored by Creep London. And some brands are sending me things so it's pretty nice.
April: Thank you! I think that's all I've got. So any last comments about the wax?
Carla: People should get it. I dunno, it's really nice (laughs). I don't know what to say: It goes on great and I like the box…and it smells cool!
(both laugh)
Carla: No, thank you very much April for coming out!
April: And thank you for letting me lurk on your session and ask you loads of questions!
Like/Share/Win!
Wanna grab a tin of this coffee-smelling goodness for yourself?   We're running a comp on Facebook!  It's open to fans only so make sure you've liked our page and the Butta page too.  Then all you have to do is like the image, tag a friend in the comments, and share the post on your personal page. This comp will be open until March 31st and the winner will be revealed by April 3rd.  Good luck and stoke to y'all!
Can't wait that long? Check the Butta page to find out how to pick some up.
Read our most recent article:
For more product reviews:
TBT – This is not a sponsored post, products received from the company but all opinions are our own.
Image Credits
all photos by April Whitlow
WHERE TO FIND US
Tweet me @Shoveitmag
Instagram: shoveitmag
FB: https://www.facebook.com/shoveitmagazine
Pinterest: https://www.pinterest.com/shoveitmag/
Links
Carla Von Marx on Instagram @carlita_the_gyspy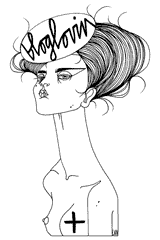 Comments
comments